We are a proud partner of DIC – Diamonds International Corporation and a participant in the Diamond Certainity program.
Join us.
Diamond certainty is a product that allows the purchasing of top quality and certified diamonds and diamonds jewelry by virtually anyone, since the price of a diamond is gradually repaid in the form of monthly deposits.
Diamond certainty program allows diamond and jewelry ownership for almost any person, and thanks to unique marketing, it will give many people the opportunity to participate in the turnover of DIC company and make very interesting money, absolutely without any risk.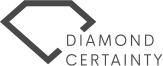 Benefits and features
You can have any diamond or jewel you want by saving through monthly payments.

You have the freedom to decide the amount of money you save monthly.

You chose your diamond or jewelry.

You can store your diamonds or jewelry by yourself or in safe boxes.

You have full control and transparency about your diamond investments through your account in Diamond Certainty Client Zone.
Why would you want to buy a diamond?
A diamond is a beautiful thing, but what it can be used for?
Turns out that diamonds are one of the best assets you can buy:
They are beautiful and are perfect for a jewel.

Their value only increases over time, so they are a very good investment.

You can even earn money by possessing a diamond.
See the 4 main diamond personas
and try torecognize yourself in one (or more) of them:
Smart investors
These are people who want to secure their financial future with good investments. They know that:
Savings in the bank don't have enough return.

The price of gold fluctuates too much.

Securities are not so secure.

Real estate is pain in the a*s.

Investing in startups is too risky.
Diamond lovers
You know – "Diamonds are Girls' Best Friend". Your outfit is not complete without a diamond jewel of some kind. Diamonds are be-a-u-ti-ful! You must possess at least one of them. You just must see the light passing through its facets and breaking into multiple colors, the shine and the energy that comes from these little pieces of carbon… and you will know how badly you want to have one.
People with occasions
People with Occasions. Diamonds are the perfect gift. For some occasions – speaking of engagement – they are de facto mandatory. For other occasions – anniversaries, birthdays, dates – they would make her the happies person. Just look at her eyes when holding the diamond jewel in her hands.
Entrepreneurs
Entrepreneurs by Heart. Besides being a good investment, diamonds can be a very profitable business. There are various ways to make money out of diamonds, but DIC's Diamond Certainty program is the one which you can start with very-very low investment and count on your communication skills. Continue reading to learn more about this opportunity.