We offer you to buy gold bars from the world's prestigious precious metal refineries
– PAMP and ARGOR HERAEUS.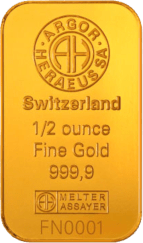 Investment gold has long proven to be one of the most stable commodities in which you can store money.
It should make up 5 – 30% of any well-balanced investment portfolio
Gold resists the instability and riskiness of financial systems, which nowadays are based primarily on the value of paper money not covered by gold.
The main purpose of gold investment is not a fast profit but distribution of investment risk and long-term (intergenerational) protection of assets.
Ingots are available in weights from 1 gram, so even small investors can buy a gold ingot.
Take a look at the development of the price of gold since 1985 and how it relates to the development of the Dow Jones index, which shows the development of the US stock market:

Consider buying investment gold if:
You want to keep the value of your financial savings
It is important for you to ensure the value of family savings, even for future generations
You are looking for security for your property
The risk of your investment is minimal because we will arrange REDEMPTION at any time. If you need liquid funds, you will have the money available within a few tens of hours.
The purchase of gold is exempt from VAT according to § 92 of Act No. 235/2004 Coll.
Each delivery includes a certificate of authenticity.
Contact us for the possibility of long-term investment / savings in gold bars.